The Strutt House:
Building Stabilization
Conservation Planning
Conservation Implementation and Management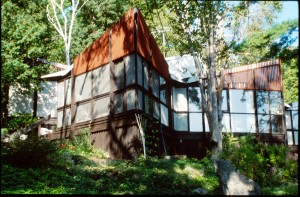 The Strutt Foundation has taken on the conservation of the Strutt House, situated just on the edge of the Gatineau Park, in the National Capital Area. The house is 111 steps up on a mid-rise plateau overlooking the Mountain Road. The home was designed by James William Strutt, one of Canada's most prolific Modern Architects, as his family home. He designed it very early in his career, and it is an exemplary preview of the exploratory nature of his architectural oeuvre that followed.
The Strutt House was purchased by the Government of Canada in 2011, and is currently in the Capital Stewardship Portfolio of the National Capital Commission (NCC). The NCC have entered into a collaborative agreement with the Strutt Foundation to conserve the property, with plans for it to be open to the public for the Canada sesquicentennial celebrations in 2017.
The Strutt House is now a Member of the Iconic Houses Network.
Explore a map of iconic houses from around the world at: