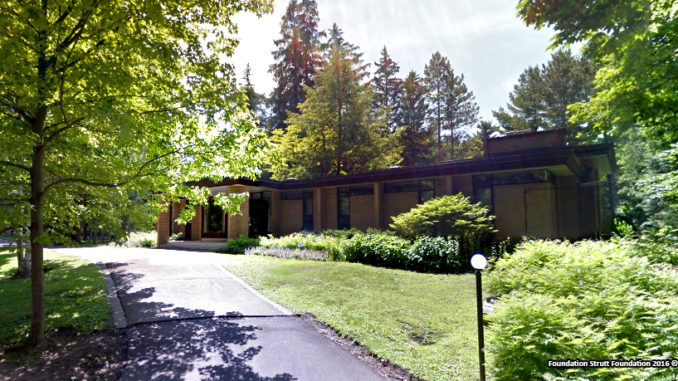 The Loeb House, located in the Rockliffe Park neighborhood in Ottawa, was designed by James W. Strutt in 1958. The Sandstone coloured brick encompasses the apparently flat planes common to mid-century modern design. The Loeb House is a two-story residence, although from the exterior one would confuse it as being a bungalow because of how well the home unifies itself on the slope of the land. The concept of integrating the home with the landscape was an ideology Frank Lloyd Wright coined. James Strutt, who was fond of Frank Lloyd Wright's application in new residential design, was also a firm believer of his infrastructure working with the landscape rather than opposing it. Much like Frank Llloyd Wright, James Strutt was also one for incorporating craftsmanship in his work, as can be seen with the various built-ins throughout the home.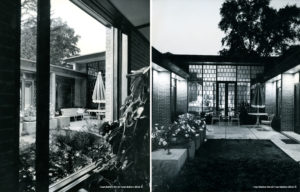 The rectilinear language of the home has been extruded to form an embraced courtyard at the rear with the wings of the house open to the courtyard through fenestration. The relationship between indoors and outdoors is melded through the large spans of glass throughout the home, as can be seen specifically in the halls looking into the courtyard. This sense of openness and views to the natural site is continued throughout and unifies the spaces. A large decorative metal screen incorporates the same rectilinear language of the home, tying both the indoor and outdoor realms as one livable space –as well as adding a level of security. The courtyard itself is a very Californian mid-century-modern idea because their climate permits it. James Strutt liked to challenge the norm, and incorporated the courtyard into several projects done in the area taking advantage of -rather than in spite of- the north-eastern climate. The courtyard provides the home with natural light and ventilation, two passive strategies for energy conservation, and creates a micro-climate in the protected courtyard that is less 'severe' than the norm. Although it can not be used year round, it still serves its purpose and provides a private outdoor space for the family to utilize in the warmer months, as well as a visual connection to the exterior even in the coldest months.
The home is also fitte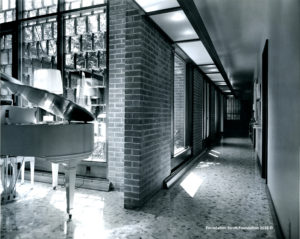 d with large spans of terrazzo tile as well as other elegant finishes that added character to the home of the young, socially active family. James W. Strutt was always placed a great importance on incorporating all aspects of his client's life, both work and play, into his work.