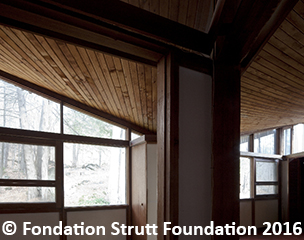 6 month Intern Opportunity and Summer Student Placements
Interns will be given tasks in multiple areas of heritage conservation as they participate in the processes of planning and project implementation of exhibits and the conservation/refurbishment of a designated heritage Modern residential project. This will give them the opportunity to see Heritage conservation as a 'big picture' effort. Interns will also be planning hands-on training opportunities in specific conservation practices: material analysis, treatments and preservatives applications, surveying, specialized wood joinery refurbishment skills development, and the documenting and cataloguing of associated work.
The position also involves heritage site interpretation and production of exhibit materials for public outreach, reflecting the project site's selection as one of the National Capital Commissions Canada 150th Pavilions. The planned exhibits will cover work being done on site, the Foundations archival projects and Canadian Modernist Heritage from a national perspective.
For more information go to: www.youngcanadaworks.ca and login to submit an application. (New Participants can also create a YCW account there.)
Applicants must be:
Canadian Citizen, permanent resident, or have refugee status in Canada
Legally Entitled to work in Canada
Between the ages of 16 and 30 years of age at the start of employment
Graduated from a post-secondary institution in the past 24 months
and
Will not have another full time job (30 or more hours) during their internship
Has not participated in YCW program with your organization in the past